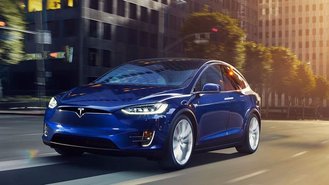 Tesla owners have a new feature that's been in numerous other cars for years now.
The electric vehicle manufacturer has finally introduced automatic emergency braking on its vehicles after it announced the feature last fall. This comes after Consumer Reports magazine lowered the scores of the company's two current vehicles, the Model S and Model X, due to the feature not being available when it was promised.
The publication, in a post Friday, said it tested an emergency braking system that works up to 28 miles per hour and deemed it acceptable, thereby raising the overall scores for both vehicles. For each vehicles it tests, Consumer Reports awards extra points to models that offer, or make standard, automatic emergency braking, as it considers it to be a safety feature that automakers should make standard equipment.
Tesla's new emergency braking system works at far lower speeds than the system that previously worked to 90 mph, as part of the company's Autopilot system. That feature was disabled in October after Tesla released a new system update. In a statement to Consumer Reports, Tesla said it would release a higher-speed emergency braking system in the coming weeks, but did not give a date.
The magazine's editors said in the Friday post it would revisit the Model S and Model X overall scores when it can confirm the majority of vehicles already sold have received the update, and revisit the scores again when Tesla introduces the new high-speed emergency braking system.