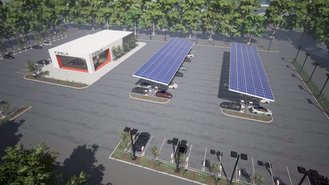 Ahead of the launch of the Model 3, California-based electric vehicle manufacturer Tesla is ramping up its charging infrastructure.
Tesla published a post to its blog Monday outlining plans for its expanded network of Superchargers, its system of fast chargers – a Supercharger can restore a Model S or Model X battery in a fraction of the time it would take if plugged into a household outlet. The company says it will double the network this year, focusing both on expanding existing Supercharger locations and creating new ones.
There are roughly 5,000 Supercharger locations globally, mostly in the US. In addition to some Tesla showrooms, these are often found along busy highway corridors, the idea being customers can quickly charge up their vehicles on long trips without fear of being caught with a dead battery miles from home.
Now, however, Tesla says it will start building stations away from highways and closer to urban centers, allowing drivers in busy cities to more easily access them in daily commutes.
This comes at a time when automakers such as BMW and Volkswagen are also investing in partnerships with companies that make electric chargers to significantly grow the infrastructure, which is still largely concentrated in busy areas and coastal cities.
With many more EVs expected to be offered by the end of the decade, the charging infrastructure is also set to grow.