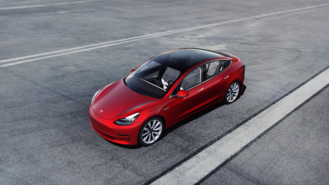 Earlier this October, on the 18th if we're getting specific, Tesla rolled out the mid-range Model 3. While the mid-level electric vehicle has the same battery case as the long-range variant, it has fewer cells on the inside, which gives it a range of 260 miles compared to 310 miles. While range is down, so is pricing, or at least it was, as Tesla has already raised the price of the mid-range model less than a week after it went on sale.

When Tesla originally came out with the mid-range model, the automaker priced the vehicle at $45,000 before incentives. That made it $8,000 cheaper than the long-range, dual-motor variant with all-wheel drive. In less than seven days, Tesla has already increased pricing for the vehicle by an even $1,000, raising the price of the vehicle to $46,000. And the mid-range variant is only available with rear-wheel drive, too, for the moment.

There is some good news, though. Consumers that have already started the process of ordering their mid-range Model 3 will be able to purchase the vehicle at the original price.

"We made a slight adjustment to our pricing for Model 3 following the introduction of the midrange battery last week," a Tesla spokesperson told Green Car Reports. "We will honor the lower pricing for all in-progress orders."

While the $35,000 Model 3 remains elusive, the mid-range Model 3's price, after federal incentives gets pretty close at $38,500. And when you take into account that some sates will give you more money on top of that, it does get close to the $35,000 mark that everyone's been waiting for. The real $35,000-model, though, is still four to six months reports the outlet.

The situation is getting a little precarious for Tesla as it recently hit the 200,000-vehicle cap for electric cars to be eligible for the $7,500 tax credit. According to the automaker's website, delivery for the mid-range Model 3 is approximately six to 10 weeks, which means that some buyers will get the full credit, which runs out at the end of December, while others will only get half of it.

Unfortunately, for consumers that were holding out on getting a $35,000 Model 3 for roughly $27,500 after incentives, it looks like that time has passed. With a timeline of four to six months, the majority of buyers would be eligible to get the $3,750 federal tax credit on the cheapest Model 3, when and if it comes out, putting pricing above the $30,000 mark.