Sometimes it's better to be patient and wait. Shoppers of Tesla's heroic Model S are in for a treat: news has just hit that it will now come standard with dual motors which tag-team to make a prodigious 514 horsepower. Is it the most affordable electric car available? Far from it. In fact, it's $5,000 more than the model it replaces. But that price increase won't really be the source of much alarm for prospective Model S owners. Especially once they realize that not only does it come with more power, but a host of other improvements.
Top 10 Fastest Sedans in the World »
Good Value?
The new Tesla Model S 70D represents a pretty solid value for those privileged enough to actually afford one. It performs like a chiseled sport coupe and has the cabin space of a full-size sedan. And now it will accelerate like a Ferrari 458 Italia. Ah, yes, the horsepower wars are alive and well. Even minivans now come with 266 horsepower.
Granted, the big $5,000 price increase might raise an eyebrow or two, but it includes a host of updates which combine to represent a tremendous value. And they still qualify for the $7,500 federal tax credit. Win.
Big Updates
Tesla is dropping the base model 60-kWh Model S 60 and that entry-level space will now be occupied by the Model S 70D. Not only will the 70D offer more power, but other improvements:
New High-Capacity 70-kWh Battery Pack
Range extended from 208 miles to 240 miles
Dual High-Performance Brushless Motors
Horsepower increased from 380 hp to 514 hp
Supercharger station use now included in price
AWD improves performance and safety
Casual observers might cry foul in regards to the $5,000 price increase, but if you sit down and think about it, the upgrades are well worth the price increase. We challenge you to find a better upgrade and/or value package that will give you 15% better fuel economy and 134 hp and AWD. Email me or simply leave your response in the comments section at the bottom of this page.
The Price Paid For 500-hp
Let's take a quick look at some of the more conventional 500-hp sedans (paradox, right?) on the market. Also, please note the pricing. Folks, those are base MSRPs...
$142,295 2015 Porsche Panamera Turbo S - 520 Horsepower
$109,825 2016 Audi RS 7 - 560 Horsepower
$107,475 2015 Mercedes-Benz CLS63 AMG - 577 Horsepower
$95,850 2015 BMW M5 - 560 Horsepower
$94,525 2015 Mercedes-Benz E63 AMG - 550 Horsepower
$75,000 2015 Tesla Model S 70 - 514 Horsepower
We understand that most shoppers don't base their buying decision on horsepower alone. But you can see why we think the Model S offers a lot of value when you factor in never going to the pump again.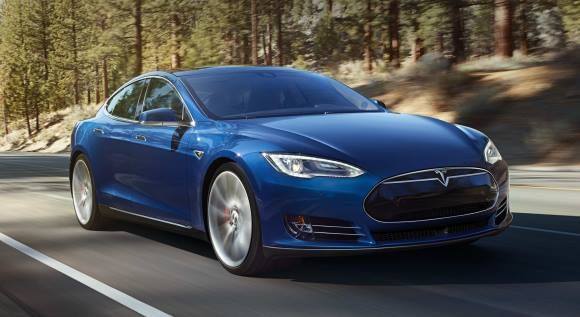 Ready to Buy a Model S?
The Tesla Model S eschews the usual dealership by selling their models online direct to consumers. The showrooms are all factory-owned. If you'd like to purchase a Model S, you can do so here. To see the latest deals and incentives on the Model S, check our exclusive CarsDirect Pricing Insider update which provides specific pricing information on the Model S. And a quick head's up: there's a two month wait. Get 'em while their hot.
This story first appeared in Automotive News.