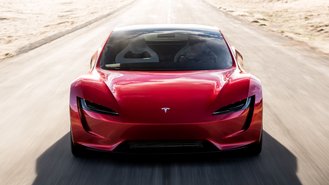 The last time Tesla CEO Elon Musk went on the Joe Rogan Experience podcast, things didn't end all that well for the outspoken billionaire. This time around, things went much better and we actually got some real information on what we can expect from Tesla. The main bit of automotive news from the podcast was that the upcoming Tesla Roadster will be delayed until the brand can work on more pressing matters.
"Roadster is kind of like dessert," Musk said during the interview, reports Reuters. "We gotta get the meat and potatoes and greens and stuff."
The meat and potatoes and greens that Musk is referring to, according to Reuters, alludes to increasing production of the Model Y and completing construction of a vehicle factory in Berlin. Furthermore, Musk noted that the recently introduced Cybertruck would come out before the Roadster.
Originally, Tesla revealed the new Roadster before the end of 2017. The sleek vehicle had some lofty performance specs to live up to, as Musk claimed that the electric car would be able to get from zero-to-60 mph of 1.9 seconds and a top speed in excess of 250 mph. The EV would be able to complete the quarter-mile in just 8.8 seconds. As with Tesla's other vehicles, all-wheel drive is expected to be standard. A 200-kWh battery pack is expected to be used in the vehicle, providing a range of up to 620 miles.
Tesla never provided an official introduction date for the Roadster, but Reuters reports that sales of the high-performance EV were expected to begin after an updated version of its Model S sedan went on sale. The outlet claims that a new Model S was supposed to come out at the end of 2020. With so many items gaining precedence over the Roadster, we're sure the timeline for the vehicle has been pushed back by at least a few years.
Production of the Cybertruck is expected to begin before the end of 2021 with some configurations slated to enter production in 2022. Tesla, though, is still looking for a location for its production plant to manufacture the Cybertruck. So, it's very likely that the brand won't be able to meet its original timeline for the electric pickup, pushing the rollout of the Roadster further back.