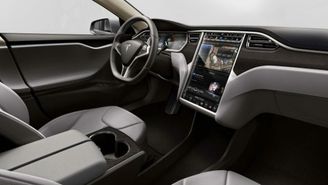 Tesla may be on the cutting edge of electric vehicle and self-driving technologies, but it has fallen behind a number of other automakers in another area: streaming audio sources.
Current Model S and Model X cars lack apps such as Spotify or Apple CarPlay, but Tesla may remedy that by instead offering its own streaming music service.
"We believe it's important to have an exceptional in-car experience so our customers can listen to the music they want from whatever source they choose," a Tesla spokesperson told Recode last week. "Our goal is to simply achieve maximum happiness for our customers."
It sounds like a difficult work-around for an independent company that's just taken 400,000 preorders for a car that isn't even on sale yet, but it looks more like another example of Elon Musk controlling his own technology, rather than farming it out. CarPlay and Android Auto are developed by Apple and Google, respectively, while automakers that choose to add them have to adapt their cars to make them work with the software. Volvo, for example, recently partnered with Google to develop their entire future infotainment systems to meet upcoming technology demands.
Tesla, meanwhile, seems to be in the research phase and is just now talking to top music officials about licensing and logistics like that. But it seems possible that "Tesla Music" could one day be an alternative to the likes of Pandora, Spotify, and yes, Apple Music.