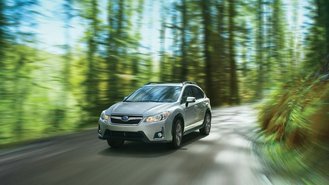 Subaru recently announced that the 2019 Crosstrek Hybrid would be the brand's first-ever plug-in model when it arrives in showrooms later this year. In this sharing-is-caring day and age, Toyota has kindly lent some of its hybrid technology to Subaru to ensure that the new model was efficient and didn't cost Subaru an arm and a leg to develop.
While the Crosstrek Hybrid has a name that implies it's just a hybrid, plug-in models are a little different. The plug-in Crosstrek Hybrid will be able to be charged from an outlet, like an electric vehicle. The rugged subcompact crossover will also be able to drive on nothing but electricity. Subaru didn't state how many miles of pure EV range the new model has, but claimed that it would be enough for "local commuting."
There's not a lot of information on the setup or power output, but the 2019 Crosstrek Hybrid utilizes a four-cylinder Boxer engine (no surprise there), the brand's Symmetrical All-Wheel-Drive system, an all-new gearbox, and Toyota's Hybrid System. The model will differentiate itself from the rest of the new Crosstrek line with unique styling, but we'll have to wait to see what that means.
The Crosstrek appears to be Subaru's guinea pig when it comes to the development of fuel-efficient powertrains. The Japanese automaker offered a hybrid variant of the Crosstrek before on the previous generation, but the hybrid was only around for one model year. The large price difference between the hybrid and non-hybrid Crosstrek, as well as its subpar fuel-economy figures, are to blame for the model's death.
The 2016 Crosstrek Hybrid was rated by the EPA to get 29 miles per gallon city, 33 mpg highway, and 31 mpg combined. Those figures weren't much better than the gas-only Crosstrek, which could get 26/33/29 mpg.