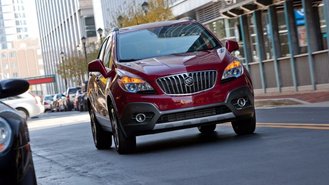 Sub-brands are becoming all the rage with automakers these days and now Buick is getting into the fun of it with its Avenir name.
For those who don't remember, the Avenir was a concept shown off at the 2015 Detroit Auto Show that displayed just how luxurious a Buick can be. Since then, its styling cues have appeared on the latest LaCrosse and Enclave models. At one point, we thought Avenir would eventually become the name of a production model, but a new announcement by Buick reveals that it will actually be an entire sub-brand similar to GMC's Denali.
Though Buick didn't reveal how it will fit into the current lineup, it did mention some of the things we can expect from it. According to the presser, an Avenir will include upgrades like a three-dimensional grille borrowed from the Avista coupe concept, large-diameter wheels, unique trim finishes, added cabin insulation for more quietness, unique seats, and upgraded materials.
It's not known when Avenir-badged cars will debut, but it could happen on some 2017 models. Stay tuned for updates.
While the Avenir models will certainly be among the most expensive models Buick offers, there are plenty of great deals on this near-luxury automaker. One that really sticks out is the 39-month deal on the 2016 Encore. Though this deal is only good for current lessees of non-GM cars, it runs just $189 per month with $1,079 due at signing. This is about as good a lease deal as there is today.