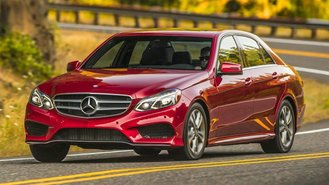 Volkswagen isn't the only automaker accused of cheating diesel emissions tests. Daimler, the parent company of Mercedes-Benz, has been labeled a cheater by some, too. According to a report from Automotive News Europe, the U.S. Department of Justice recently requested that Daimler performs an internal investigation into accusations of cheating posed by a class action lawsuit.
According to the report, owners of BlueTEC diesel-powered models are claiming that Mercedes installed illegal cheat devices in their cars to keep emissions low during testing. The lawsuit claims that, like Volkswagen's TDI engines, the BlueTEC powerplants spew significantly more real-world emissions than testing indicates.
Mercedes, however, calls these claims "without merit" and insists that there are no cheat devices. Instead, Daimler says it uses a perfectly legal urea system to reduce the deadly toxins that flow from the tailpipe. Mercedes does, however, state that there could be a procedural lapse when moving from European tests to EPA tests, which may create a small discrepancy between testing numbers and real-world numbers. Mercedes claims that even if this is true, the problem wouldn't be anywhere near the scale of VW's dieselgate scandal.
We'll continue to monitor this situation and bring you updates as they become available.
For buyers who trust Mercedes-Benz's word that its emissions are in check, you can snag a great deal on the diesel-fueled 2016 E250 BlueTEC 4MATIC as it has a 36-month lease deal that runs $589 per month. Alternatively, the same model has 2.99 percent APR for up to 72 months available.