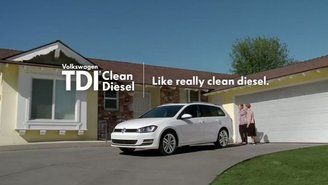 The Federal Trade Commission is tasked with monitoring business practices and stepping in when they become counter the laws of the land. Today, the federal agency has announced that it will join in the public punishment of Volkswagen for its dieselgate scandal by filing a lawsuit against the company on behalf of all the people is deceived with its various "Clean Diesel" ads.
In a statement from the FTC, it is seeking compensation for the more than 550,000 customers who bought or leased a "Clean Diesel" VW between late 2008 and 2015. The FTC full complaint claims that the automaker fooled buyers with multiple deceptive ad campaigns during high-profile events that claimed these cars were better for the environment than standard gasoline cars. In reality, the FTC complaint states "they emit up to 4,000 percent more than the legal limit of NOx."
The FTC didn't release a certain amount of money it is seeking in this lawsuit, but my guess is that it'll shoot high and go for the full sales amount of the affected cars. According to the complaint, there were more than 550,000 impacted cars, each costing an average of $28,000. This means that the damages the FTC initially seeks could be around $15.4 billion. Of course, the government agency would never get this kind of money for the deceptive advertising, but this goes to show that VW has a long and rough journey ahead of it.
Volkswagen was the leader in diesel-powered rigs outside of the luxury segment, so if you were hoping to get the fuel-saving benefit of these engines, you will need to look elsewhere. One great deal on a rig that outperforms the VW diesels is the 39-month lease for $299 per month after paying $0 at signing on the 2016 Chevy Volt. Alternatively, qualified buyers can also get 2.9 percent APR financing for up to 48 months on the Volt.