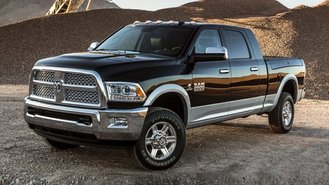 Medium- and heavy-duty truck sales have been way down in recent years as buyers flock to cheaper and more fuel-efficient light-duty pickups to do their hauling. Amid this decline in sales, the federal government is starting to sniff around these big trucks and their fuel economy.
According to Reuters, the National Highway Traffic Safety Administration (NHTSA) and Environmental Protection Agency (EPA) are reopening a dead proposal that could result in the agencies regulating these trucks' fuel economy. For now, the agencies are simply looking for a little public input on the matter of these trucks' MPGs, but if they decide to pursue regulations, this could affect a segment that is already against the ropes.
Reuters reports that the leaders of United Auto Workers (UAW) met with NHTSA brass to voice their concerns. According to the summary of the report, the UAW leaders told the NHTSA that too-strict of regulations could "have serious impacts on" manufacturers.
Any car fan who was alive during the emission and oil issues of the '70s and '80s are likely to remember the virtual elimination of the muscle car segment. This could, potentially, have the same impact on the medium- to heavy-duty pickup segment.
At this point, there is no official timeframe for this proposal, so it's best to get your medium- to heavy-duty pickups now. Luckily, there are plenty of great deals on these work-ready pickups, like $2,000 in factory rebates on the 2016 Chevrolet Silverado 2500HD and a $3,000 rebate on the 2016 F-350 or 2016 Ram 3500.