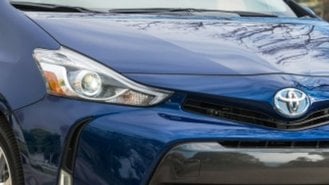 The IIHS is looking for a way to further separate itself from the tests performed by the NHTSA. In order to get some space between it and the government-run agency, it is releasing new tests that the NHTSA hasn't thought of yet. Today, the independent crash-test company has revealed its latest safety measurement, headlight-glare ratings, and 30 of the 31 cars tested need some work.
The IIHS tested these vehicles' headlights by using a special device to measure their glare to oncoming vehicles in five scenarios: traveling straight, a sharp left curve, a sharp right curve, a gradual left curve and a gradual right curve. With these measurements in hand, the IIHS compares them to ideal measurements, adds credits for advanced features like auto high beams, and develops an overall score.
In its initial testing, the agency tried out 31 midsize cars with a total of 82 headlights configurations (LED, HID, adaptive, etc.) and only one received the agency's highest rating of "Good." The car that took home the victory was the Toyota Prius v with LED lights and high-beam assist. Without these two advanced features, the Prius' headlights tumble all the way to a "Poor" rating.
Even more ironic is the fact that paying a premium for a luxury car does not assure you will get a great set of headlights. Proof of that is the fact that the C-Class, the ATS, and the CLA-Class all received "Poor" ratings. What's more, the worst of the test group were the base halogen headlights on the BMW 3 Series.
The final interesting note is that the best base headlights are actually those on the 2016 Honda Accord sedan. In the IIHS' testing, these headlights received an "Acceptable" rating.
If you're looking to get the best bang for your buck in the realm of headlights, you can pick up the Accord and its "Acceptable" base headlights on a 36-month lease for just $199 per month after an initial payment of $1,999. Alternatively, you can finance it with 0.9 percent APR for up to 36 months.