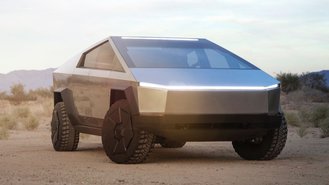 Tesla set out to do things differently when it emerged as an electric-only brand, but the post-apocalyptic-like Cybertruck takes that spirit to the next level. With things like 301 stainless steel that SpaceX uses for its spacecraft and armor glass windows, the funky looking truck is meant to outlast the worst of events and help you explore the great outdoors without worrying about something going wrong. For consumers that expect to drive around bodies of water, there's some more good news, as the Cybertruck will reportedly float.
A Twitter user questioned Tesla CEO Elon Musk on the upcoming Cybertruck's wading depth. When off-roading, there's a chance you'll encounter a stream or river that you'll have to cross, which makes wading depth an important quality for some. In response to the question, Musk replied, "Yes. It will even float for a while."
Musk didn't provide any more details or information on the claim, leaving all of us to scratch our heads. It could be due to the pickup truck's design or because of some special quality that we don't know about yet, but wading depth doesn't sound it will be an issue for Cybertruck owners.
According to Electrek, the outlet reported on an incident with a Model S driving through a flooded tunnel a few years ago. Musk responded to the article by commenting, "We definitely don't recommend this, but Model S floats well enough to turn it into a boat for short periods of time. Thrust via wheel rotation."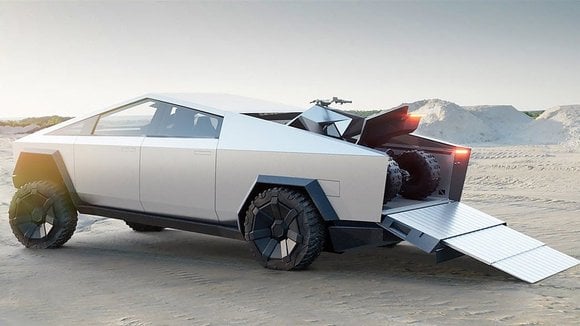 Based on Musk's comment from a few years ago, the automaker must build all of its vehicles to be able to "float" for a small period of time. That leaves us to believe it simply boils down to engineering and design.
Musk also provided a few more details on the brand's upcoming truck. "We're working on increasing dynamic air suspension travel for better off-roading. Needs to kick butt in Baja," said Musk in another tweet from earlier this week. Seeing changes from a prototype to a production version isn't out of the norm, but it sounds like one of Tesla's main updates will be to the truck's suspension system to make it more capable off-road. Also, it looks like Tesla will be running a Cybertruck in the Baja 1000, which is especially exciting.
One of the things that really stood out about the Cybertruck when Tesla unveiled the vehicle was its size. While comparable in figures to the Ford F-150, it looked bigger on stage. There's good news, as the production version of the Cybertruck will reportedly be smaller than the prototype we saw. "Reduced size by ~3%, center line is more level & lower window sill height," tweeted Musk earlier this week. If the powertrain remains the same, a smaller truck could result in better performance.
Tesla was aiming to begin production of the Cybertruck in late 2021, but the electric automaker is still working on finding a location to build its production facility for the truck. As with other Teslas, a rear-wheel-drive model is expected to come first with faster, more expensive models following after in 2022. Tesla, though, hasn't said whether the coronavirus pandemic has affected its timeline for the pickup.