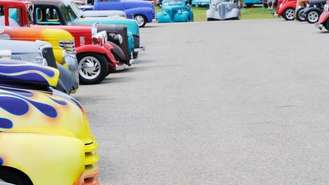 Attending car shows is a great way of learning about new technology in the automotive industry, finding new trends in auto design and environmentally conscious innovations in new cars. People thinking about purchasing a new vehicle for whatever reason will obtain useful information about new cars, financing, tax incentives and other topics that will help them pinpoint the right car for them.
Seeing new models from a variety of manufacturers on display in one place is an advantage to car shoppers. While research on cars and trucks can be done online, car shows allow people to experience the cars in person. Representatives and spokespeople for all types of automotive brands and related auto industry businesses are on site for consumers to ask questions about product specifications, fuel economy, innovations between prior and new models, special promotions and financing deals.
Usually there are workshops and booths for automotive and transportation organizations that provide relevant consumer information ranging from car care products to insurance coverage. Typical car shows debut the latest in production cars, from compact economy cars to luxury SUV's, and also showcase the latest concept cars and unveil the newest exotic cars. Concept cars are the forerunners in automotive design and technology, and give consumers a sneak peek at the technological innovations and designs to hit the consumer market in years to come. Auto shows usually occur in the winter and early spring months, and then again in the fall each year. Some of the biggest car shows are based in Tokyo, Paris, Detroit, Beijing and Geneva.
6 Major Annual Car Shows in the US
There are many car shows each year in the US, and some of them are major industry events. There are industry trade shows and then shows that are open to the public. The larger shows have many different categories of cars, trucks, motorcycles, classic cars and much more.
Detroit Auto Show
The Detroit Auto Show is one of the largest in the US. It takes place in the middle of January each year, spread over a week, with a day for the media, a day for industry, a day for charities and then several days devoted to public showing. You can expect to see vehicle debuts. Auto personnel from companies around the world are at this show to bring you all the information you could need or want.
New York Auto Show
This show occurs at the beginning of April and provides you with sneak peeks, new concept models, new production models and much more. It is held at the Jacob Javits Convention Center. There is a charity gala event and the opportunity to take private tours. There is a ride and drive area in which you can test drive new models.
Los Angeles Car Show
The auto show in LA takes place at the end of November at the Los Angeles Convention Center. At this show, you can see many concept cars, hybrids, models that use alternative fuels, project cars and aftermarket cars. You can test drive many cars, play games and even see art exhibits on cars. There are sessions in which you can meet famous drag racers and other famous names from racing. This show has world premiers as well as North American premiers of new cars.
SEMA Auto Show
The SEMA show is held each year at the Las Vegas Convention Center. This is an industry show and is not open to the public. Split into 12 different sections, the show brings together more that 100,000 industry leaders from more than 100 countries. There are product demonstrations, educational seminars, networking opportunities and more.
Atlanta International Auto Show
This show is held at the end of March in the Georgia World Congress Center. Vehicles from the major auto manufacturers are on display, as well as many future models. There are plenty of opportunities to drive cars and purchase them. You will be able to see the classic car showcase, sports celebrities and other famous figures in racing and entertainment.
Philadelphia International Auto Show
This show is a great event for the entire family. Instead of manufacturers showing up, most of the dealers in the area have displays. Recently, the show has been overhauled and brought in fresher and more exciting cars directly from the manufacturers and leaders in the auto industry. The classic car section is very well done.
Most Popular Custom Car Shows in California
You can find a custom car show in California at almost any time of the year. There are many hot rod custom car shows to attend because there is an entire custom car culture that developed, mainly in Southern California. You may be able to find a free car show, while others may donate their proceeds to charity.
Orange County Auto Show
This auto show is held at the Anaheim Convention Center in October. This is a huge car show with more than just customs, as you can test drive some of the newest vehicles, see exotic cars, talk to those in the restoration market and much more.
Capitola Rod & Custom Classic
This show is in June of each year in Capitola. You can view all different types of custom cars from the area. These cars are in excellent condition and you can ask questions of the owners, look under the hood and attend the many events that are held. Come see some of the coolest cars from the hot rod era.
Sausalito Custom Car Show
This show occurs each year in Sausalito and is right on the beautiful waterfront. It normally occurs during the first Sunday of October. There is a wide range of classic cars to see, plenty of food and great music. The different categories include hot rods, custom cars, special interest cars, antique cars, vintage cars and classic cars.
Vintage Runs Harbor Run
This event is in Venture, California in September, put on by a family club dedicated to promoting classic cars and street rods. They host many events during the year and all proceeds go to local charities. If you own a custom car, hot rod or pickup from before 1973, you can join the club and show your car.
Cypress Annual Classic Car Show
Show up early to this classic car show and enjoy the burrito breakfast and coffee. They offer different awards and visitors can enter for fun prizes. There are vendors, food and drinks. This one is for anyone that has a dragster, stock car, custom car or classic car. Registration is only $25.
Oldies but Goodies Car Show
The Oldies but Goodies car show occurs once a month in Lake Forest, in March, April, May, June and July. There are all different types of custom cars available to view and no entry fee and there are several awards to be won.
All American Originals
This show is in Tustin and is specifically for original or restored to original condition classic cars from before 1973. This is the perfect show to view classic cars in original condition. The organizers only want real vintage cars and not ones that use an engine from 2007 in a vintage body.
Torrence Custom and Classic Car Show
This is one of the newer classic car shows in California and is held in May on the Pacific Coast Highway. You can see classic cars, support local sports teams, grab some lunch and enjoy a great day out among classic and custom cars.
Where to Find a Car Show Events Calendar
Online
Searching the Internet is one of the quickest ways to find websites for car shows all around the world. Popular automotive shows like theNorth American International Auto Show, the Chicago Auto Show, and the Los Angeles Auto Show are well-known US auto events, however a one-stop car show schedule over the course of a calendar year can be difficult to find. Utilizing specific search terms will help to pinpoint your search like "auto show calendar", but knowing what to look for among the results can save you considerable time in finding a comprehensive calendar of shows. Industry websites like Car Show News have a calendar of events held in North American cities for major car shows, trade shows as well vintage and custom car shows.
Online newspapers are also credible sources for automotive event calendars. The New York Times automotive websitehas a rolling calendar of auto events for US regions and international locations.
Car Clubs
If you're interested in a particular type of car show, like custom cars or one auto maker, often you can find a listing of events from car club organizations. Joining a car club is an excellent way of keeping apprised of local auto shows, as well as news about related nationwide auto events.
Industry Organizations
Worldwide organizations like the International Organization of Motor Vehicles, also known as OICA (Organisation Internationale des Constructeurs d'Automobiles), provides a calendar of auto shows in major cities all around the world, from US cities like Chicago to Beijing. These are major car events that focus on the debut of new production models, concept cars and the latest technological innovations in the industry.