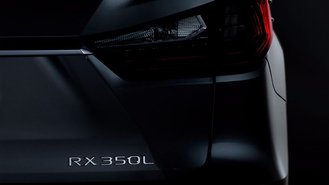 Press days at the Los Angeles auto show begin later this month before officially opening to the public December 1. There are several reveals planned for the show, but one coming from Lexus, could have a big impact on one of the brand's most important markets. Finally, there will be a three-row RX.

The 2018 RX 350L adds a third row of seating, making room for up to seven passengers. Three rows will also come to the hybrid version at a later date. The RX 450hL could come as a late 2018 model or early 2019, but Lexus was light on the details.
That third row of seats should represent the biggest change – powertrains and other tech should remain unchanged. This means a 295-horsepower, 3.5-liter V6 powers the RX 350L. The RX 450hL also has the same 3.5-liter V6, but combined horsepower is 308. Fuel economy figures should come at a later date.

The addition of a three-row RX crossovers makes the model much more competitive, especially against the Acura MDX, and gives Lexus a point in its column compared to the BMW X3, Mercedes-Benz GLC-Class, and Audi Q5. The 2018 Lexus RX 350L will hit the stage in LA on Wednesday, November 29 at 10:00 AM out west and 1:00 PM on the US east coast.