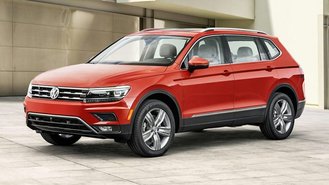 The new three-row 2018 Volkswagen Tiguan hasn't been on sale for a long time, as the vehicle was introduced last July, but VW is already lowering the price of the three-row crossover to better "conquest customers" in the competitive segment, reports Automotive News.
According to the outlet, VW sent notices to dealers on Thursday outlining the price changes for three-row Tiguans. The base S trim is getting a $600 price cut, the midlevel SE trim is getting a price decrease of $2,180, while the SEL trim sees a $1,460 decrease, reports Auto News. Pricing for the range-topping SEL Premium trim will remain the same at $37,150, including destination.
The change will see the Tiguan S trim drop down to $25,495, $27,650 for the SE trim, and $37,150 for the SEL trim. The aforementioned prices are for front-wheel-drive Tiguans, but all-wheel-drive models get the same price cuts, claims the outlet.
The move to slash prices on three-row Tiguans comes after a slow year in sales. Despite going on sale in the summer, the Tiguan still wasn't very competitive. According to Automotive News, VW only managed to move a total of 21,023 Tiguan crossovers in 2017. That's not very good, as the Toyota RAV4, Mazda CX-5, Nissan Rogue, and Honda CR-V accounted for more than 100,000 units of sale each. The RAV4 and Rogue's sales figures decimated those of the Tiguan, with Toyota selling 407,594 units of the RAV4, while Nissan managed to shift 403,465 units of the Rogue.
Auto News claims that Hinrich Woebcken, CEO of Volkswagen of America, is looking to increase sales by shifting the German automaker towards being a mass-market brand in the United States. The new pricing for the three-row Tiguan will definitely help the automaker do just that.
Pricing for the Tiguan Limited, the previous generation of the two-row crossover, remains unchanged at $22,860.