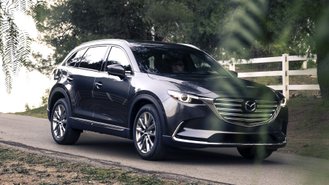 Consumers are now spoiled for choice when shopping for crossovers as a seemingly endless parade of new models are introduced. But Mazda says it's fine with the lineup it has now.
The CX-3, CX-5, and CX-9 will continue to be the only crossovers in Mazda's US lineup, a spokesman told The Truth About Cars Wednesday. This leaves the CX-4 and CX-8 variants offered in China and Japan, respectively, off of our shores.
The CX-4 is a CX-5 with a more coupe-like body in place of the latter car's boxier styling and better cargo space. It is curious, however, that Mazda doesn't see fit to offer a more stylistic crossover in the vein of the BMW X4, Mercedes-Benz GLC Coupe, and a number of new models coming from the likes of Audi and Volkswagen. But the company likely sees more models picking up sales that would have otherwise gone to the existing models, rather than attracting new customers.
The argument against the CX-8 is more understandable. It's essentially a three-row vehicle with the CX-9's styling in a body the size of a CX-5 – Mazda might be better served by simply adding a third row to the current CX-5 if it wants to step on the toes of the Dodge Journey and Mitsubishi Outlander.
Mazda says these two crossovers are also changed to meet different market demands, especially the CX-8 serving Japan's width restrictions for vehicles.
We're betting the idea of redesigning these vehicles to meet US regulations, particularly when their roles are adequately filled by the brand's current lineup, simply wouldn't make sense for a smaller automaker like Mazda.