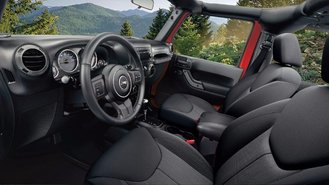 More American-branded cars are actually American this year.
Models made by FCA, Ford, and General Motors make up most of the the Cars.com 2017 American-Made Index, a study that assesses how many parts of a car are domestic products. This year, the study was revised to reflect changes in what defines "American-made," according to Cars.com, which has now favored some domestic brands.
The Jeep Wrangler and Wrangler Unlimited, Jeep Cherokee, and Ford Taurus were in the top three positions with as much as 75 percent domestic content. Yet Honda had the most vehicles on the list, with the fourth-place Ridgeline, fifth-place Acura RDX, and the Odyssey and Pilot taking ninth and tenth, respectively.
The study still weighs the following criteria: assembly location, domestic-parts content, U.S. factory employment adjusted by sales to reflect how many employees each sale supports, engine origin, and transmission origin. But it de-emphasized sales of a given vehicle, which is likely how the best-selling car in the US, the Toyota Camry, fell off the list entirely this year, despite the fact it's made here along with most of its components.
The full list and reasoning behind the ranking is on Cars.com, but it still serves as a reminder that the term "American-made" is hard to define when it comes to cars. Yet for those intent on supporting American jobs, it's worth taking a look.