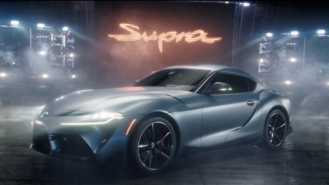 Super Bowl LIII wasn't particularly exciting, as the score was at an even 3-3 for a large portion of the game. If you're one of the millions, like me, that tune in just to watch the car commercials, you were probably disappointed in that department, as well. Of the 56 commercials that aired during the big game, only six were about cars. That's abnormally low, but even more surprising was the lack of commercials from American brands.

With only a handful of commercials to choose from, we think all of the automotive-related ones from this year's Super Bowl were worth a watch. But for those that are short on time, here are a few that really stood out to us.

Hyundai: The Elevator


Instead of showcasing the new Hyundai Veloster or the somewhat new Santa Fe, decided to show off its Shopper Assurance program, which is supposed to take the hassle out of buying a vehicle. Participating dealers provide clear pricing for their new vehicles, allow shoppers to set up a flexible test drive, and gives those on the fence three days to exchange their Hyundai if they're having second thoughts.

Obviously, this isn't the most exciting stuff to talk about during a Super Bowl, so Hyundai nabbed actor and producer Jason Bateman for the roll of an elevator operator that's taking people through things they'd rather be doing than car shopping. Apparently, a "vegan dinner party" and a "middle seat" for a six-hour flight are both worse than shopping for a new vehicle.

It's a quick, light commercial that's pretty funny. Plus, there's a quick look at the upcoming Hyundai Palisade – the brand's flagship three-row crossover – at the end.

Kia: Give It Everything

In an old school, almost American take on a primetime commercial, Kia highlighted where the new Telluride SUV is built instead of the vehicle itself. The commercial also sheds some light on the individuals that live in West Point, Georgia, which is where the Telluride is built.

It's not light, nor does it have a sense of humor. This is a thought-provoking commercial that will make you take a second look at where Kia manufacturers its vehicles and the individuals that put the time and effort into building the cars.
Learn more about the Kia Telluride

Mercedes-Benz: Say the Word

The new Mercedes-Benz A-Class is the German automaker's latest and greatest entry-level model. Oddly, like the other car commercials, Mercedes decided to show off its highly intelligent infotainment system called MBUX instead of really highlight the car. The system found in the new A-Class can do numerous tasks by constantly awaiting a command from the driver. In the commercial, Mercedes wants you to think about what life would be like if everyone and everything listened to your command.
Learn more about the Mercedes-Benz A-Class

Toyota: Supra "Wizard"

What more can we say about the Toyota Supra? This is a sports car we've been begging Toyota to make for over 20 years now, and it finally made its official debut at this year's Detroit Auto Show. Besides bringing a sporty side to Toyota that's been missing for what feels like years, the Supra, as the commercial conveys, brings a sense of fun back to the Japanese brand.

In a nod to a different time when the old Supra was available, the new sports car is being driven quickly through a pinball-machine like course. Pinball machines might be hard to find, but we're really hoping to see the new Supra everywhere.
Learn more about the Toyota Supra

Audi: Cashew

While Audi's corporate cousin, Volkswagen, hasn't been shy on giving everyone the lowdown on its future push into the world of electric vehicles, Audi has been a little more subdued. The brand's ad during the Super Bowl changed that, as it previews the automaker's upcoming e-tron GT.

Instead of going down the route of, yeah, we're also coming out with an electric car, Audi takes an interesting spin where a middle-aged individual goes to his grandfather's old barn where he gets the keys to a new e-tron GT that's been preserved under a tarp. Shortly after sliding into the driver's seat, the young adult realizes its all a dream and that he's been choking on a cashew. One day, electric cars will be exciting vehicles parents will pass down to their kids. Or, at least that's what Audi wants us to think.