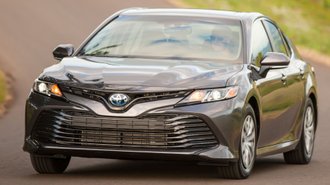 The safest cars in America still require costly options to qualify for the Insurance Institute for Highway Safety's highest rating. Although the group made it more difficult to attain its top score earlier this year, our analysis finds that most new cars & SUVs that meet the latest criteria remain surprisingly expensive.
A year ago, just 2 cars achieved the score of TSP+ (Top Safety Pick+) without options: the Honda Insight and Genesis G90. Unfortunately, finding a top-scoring car or SUV may not be much easier in 2020 because cars that can attain the highest rating still require consumers to choose an expensive trim or optional package.
For example, the 2020 Toyota Camry starts at $25,420 and is rated TSP+. However, the configuration that achieved the organization's best headlight score was the XLE Hybrid with optional adaptive headlights. Although the trim starts at $33,725, the MSRP reaches as high as $39,185 with the required equipment.
Fortunately, IIHS says automakers are starting to do a better job of making changes to entry-level models. According to IIHS spokesperson Russ Rader, "manufacturers are dropping the headlights that are sub-par performers in our nighttime track tests." But the number of cases is still quite limited.
For example, the 2021 Subaru Ascent and 2020 Acura RDX are both rated TSP+ and have the highest possible scores for headlights even in base form. Rader added that the recently updated 2021 Honda Odyssey no longer offers two halogen headlight variants the organization deemed "marginal" to "poor".
Rigorous testing is surely a good thing, especially when choosing the best car for a teen. According to the IIHS, drivers are up to 46% less likely to die in a frontal crash when comparing cars rated "good" versus "poor" in the group's moderate overlap test. That said, there are some important factors to consider.
For example, even highly-affordable cars like the Nissan Versa come with valuable features like automatic emergency braking. The agency also still notes that frontal ratings can't be compared across weight classes because "the heavier of two vehicles usually offers better protection in real-world crashes."
Cars with the highest scores may offer impressive credentials, but shoppers may still find value from a broader range of models. As far as deals, Subaru is continuing to offer 0% APR financing for up to 63 months on a number of highly-rated models like the 2020 Forester through November 2.