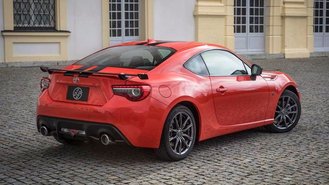 The sporty Toyota 86 coupe will soon be getting a new variant called the 860 Special Edition. The limited production car will offer a bit more flair than the current model at a price point in line with variants of the Subaru BRZ. So what new features will you get with the Special Edition? What will it cost? And when will it arrive at dealers? Here's what you need to know.
If you think the notion of calling a car the 86 860 Special Edition is unusual, you're probably not alone. However, there appears to be a reason for this. According to Auto Guide, Toyota will only produce 860 copies of each of only two available colors.
The first is called Halo, which is already available on the current car and is essentially an off-white. The second color option is new and will be exclusive to the Special Edition called Supernova. It's a deep orange, which, coupled with optional dual stripe graphics, offers a decidedly more aggressive look.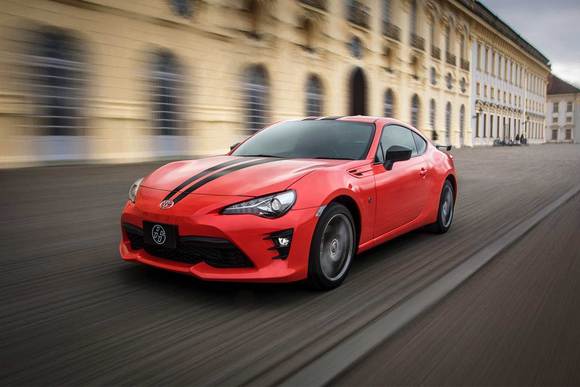 Under the hood, the SE will be exactly the same as the monospec car with a 205 hp engine with the six-speed manual gearbox, or a 200 hp mill when paired with the optional six-speed automatic. Like the base car, the automatic features steering-wheel mounted paddle shifters and rev matching.
Most of the key differences will be in the details. Order guides reveal the exterior of the new SE will get standard fog lights, a rear spoiler and distinctive 17-inch aluminum "Super Black High Luster" wheels.
Auto Guide reports shoppers will be treated to leather seats with orange contrast stitching, dual-climate control and push-button start. Leather has thus far not been an option on the entry-level 86, and has instead been a selling point for upgrading to the Subaru BRZ Limited.
Pricing is set to start at $30,040 with destination for the manual transmission and $30,760 with the automatic. This equates to a $2,900 premium over the base car which starts at $27,140 with the manual and $27,860 with the automatic.
For reference, a baseline Subaru BRZ Premium starts at $26,315 and extends as high as $30,515 for the limited-production Series.Yellow variant. Key competitors such as the Ford Mustang and Chevy Camaro start at $26,085 and $26,900, respectively.
The 860 Special Edition is expected to begin arriving at dealers within the next month.