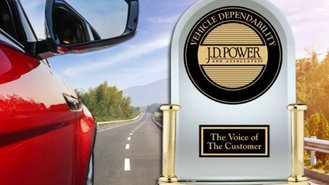 Picking a new car is a bit of a crapshoot, as you just never know what you're going to get. Sometimes you pick right and hit the jackpot with a car that gives you years of issueless operation. Pick poorly and, well, you get stuck with a car that spends more time in the shop than it does in your garage. Today J.D. Power helps eliminate the guesswork behind choosing your next car with its 2016 Dependability Awards.
These awards are given out to three-year-old vehicles—2013 model year—and are based on the last 12 months of owner-related issues. Toyota and General Motors went all out this year, taking home multiple awards across its various brands, but the Brits and Italians got in on the fun too.
Unsurprisingly, Toyota and its luxury arm, Lexus, have a heavy presence on this list. Toyota takes home the compact multi-purpose vehicle award with its 2013 Prius v, the minivan award with its Sienna, and the large light-duty pickup award with the Tundra. The Lexus sub-brand actually matches its parent company with three winners as the GX, GS, and ES take home the "W" in the midsize premium SUV, midsize premium car, and compact premium car segments, respectively.
GM has lots of victors too, but most impressive is its Buick brand. In recent years, Buick has been working hard at returning to its old form and upping its overall quality, and with the Verano, Encore, and LaCrosse all winning their respective segments, we would consider that a success.
Two unexpected winners this year are the Mini Coupe and Roadster in the compact sporty car segment and the Fiat 500 in the city car segment. While the Fiat only duked it out with two other cars, the Mini had some serious competition from a few Toyotas—the Scion tC and FR-S—and still managed to come out on top.
Likely the single most shocking part of the entire study is that Honda—a name synonymous with reliability—had just one car on this year's list. That is the 2013 Fit.
Sure, these ratings are on three-year-old rigs, but this gives you a great idea of how the newest versions of these cars will perform if you were to snap one up. What's more, some of these models have great deals on their latest model years. For example, the 2016 Prius v is available on a lease deal for just $269/mo. for 36 months, plus there is up to $1,000 in bonus cash available. If you need something a tad more luxurious, there is also the Lexus GS 350 available for $499 per month and up to $750 in loyalty cash.