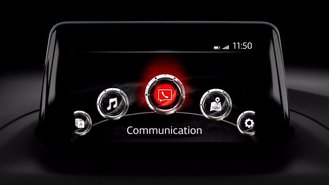 As our sister website The Car Connection reported earlier this month, Toyota and Mazda's newly announced partnership will see both of the Japanese automakers work together to create a joint manufacturing facility, electric vehicle technology, new safety features, and more. While the collaboration was only announced a little while ago, we'll get to see what the two companies have been working on very soon.
According to a report by Nikkei, future models from Toyota and Mazda will come with the same core infotainment system that will be in charge of running navigation, smartphone connections, and music. Toyota, as the outlet reports, is in charge of developing the system's brainpower, which utilizes Linux, with Mazda is being brought in for additional streamlining.
While both automakers will use the same basic architecture for the infotainment system, Nikkei reports that Mazda and Toyota will develop their own applications and features. The new 2018 Toyota Camry, which is already on sale in the U.S., will be the first car to have the tech, while the refreshed Mazda3, which should be out sometime in the near future, will be the first car from Mazda's camp to have the infotainment system.
As CNET reports, both systems will be able to utilize Toyota's Wi-Fi hotspot, allowing up to five devices to be simultaneously connected to the Internet and receive over-the-air updates and new applications. While the infotainment system will feature a variety of applications, including Pandora and Slacker, CNET claims that the system won't have Android Auto or Apple CarPlay compatibility.