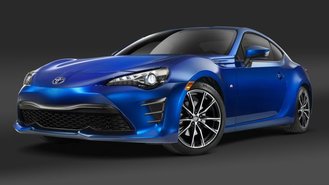 Scion is nearing its scheduled elimination in August 2016, but will live on—in spirit—within the Toyota brand as its parent company absorbs its three top models: the FR-S, iM and iA. There is, however, one last piece of business and that is how to make these distinctly Scion names fit into the more mainstream Toyota naming system. Today, Toyota announced its plans, as well as a big refresh for the FR-S.
The model that will undergo the biggest changes is the FR-S, as it will not only become the Toyota 86 (the global name for the car), but it will also get some aesthetic and mechanical updates. The Toyota 86, which is set to hit dealers in the fall of 2016, will get an output increase to 205 horsepower and 156 pound-feet of torque, revised gearing for its manual transmission, and updated spring rates. Aesthetically, it gains new LED headlights and taillights, a new front air inlet, a new rear bumper, and upgraded cabin materials.
The other two production models making the shift from Scion to Toyota are the iA and iM. Both of these vehicles will remain pretty much unchanged mechanically and appearance-wise, but they will gain more Toyota-like names. The iA will become the Yaris iA and the iM will become the Corolla iM.
The C-HR, which began life as a Scion concept vehicle, will retain its name once it hits production as a Toyota model in the spring of 2017.
With the Scion brand on its way out, there are tons of deals to help clear out inventory. For example, the 2016 Scion FR-S is available at 1.9 percent APR financing for up to 60 months, or on a lease for $349 per month with nothing due at signing. Even better, buyers can get the excellent 2016 Scion iA with 0 percent APR financing and a $500 bonus.