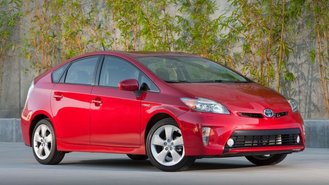 When it comes to news about the redesigned 2016 Toyota Prius, we're all ears. And for good reason- rumors abound surrounding the automaker's efforts to update and improve their bestselling hybrid. However, it pays to be careful of rumors- Toyota's CEO has confirmed reports of the new Prius getting a 15% or higher improvement in fuel economy are flat out wrong.
What we know
Although the new Prius isn't due to go on sale until sometime next year, analysts expect Toyota to give us our first official look by the end of 2015. But will it be worth the wait? The new Prius will aim to be superior in just about every way to the one it replaces.
Updated tech is a given, and Toyota is investing in low-cost safety tech like their Toyota Safety Sense due to debut on the 2016 RAV4. The automaker is also working hard to make the Prius a better handling vehicle with a lower center of gravity. Visually, we know it will take design cues (for better or worse) from the C-HR Concept shown at the Paris Auto Show last year.
Full preview: 2016 Toyota Prius>>
Setting rumors straight
Okay, enough about styling and tech. What about fuel economy? The bar is already pretty high with an overall EPA fuel economy rating of 50 mpg on the 2015 model.
Media reports citing a 15% (or higher) gain in fuel economy have skyrocketed expectations. But according to Toyota CEO Jim Lentz, the rumors simply aren't true. In a report by the Detroit Free Press, Lentz recently confirmed rumors of a 15% efficiency gain are too high and just plain wrong.
Get a price on the 2015 Toyota Prius>>
Challenging time for hybrids
Record-low gas prices certainly aren't helping sales of hybrids. Prius sales are down 14% and on par with a 15% industry slump for hybrid sales. As a result, we're seeing some of the best deals we've ever on the Prius family. For example, in April we saw a $2,000 rebate on the budget-minded Prius c, dwarfing any discount ever before on that model.
What if you're intrigued by the idea of a better Prius but need a car now? Regional offers this month like a $2,000 gas card in Southern California for 24-month leases make for a top green car deal. A shorter lease gets you behind the wheel of the current Prius (which we love) while letting you upgrade sooner to the new one after it goes on sale.
One thing's for sure- Toyota knows it has its work cut out for it, but the automaker is making sure expectations are in the right place ahead of time.
What kind of MPG rating would make the Prius an "instant sell" for you? Let us know in the comments.