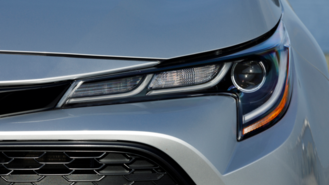 The Toyota Corolla may be one of the oldest nameplates on the road, but the model is in for huge changes for the 2020 model year. Preliminary order guides reveal that an all-new Corolla is set to go on sale in the earlier months of 2020. While there's still a lot of information that's up in the air, we do have some educated guesses on what kind of changes Toyota could introduce for the sedan.

The current iteration of the Corolla came out in 2014 and marked the 11th generation for the sedan. Seeing as how Toyota usually updates the Corolla every four to five years, the current generation is on track to get an overhaul.

So we expect it to make a jump to the automaker's new TNGA platform, like nearly every other new car that's come out recently. There's a good chance the Corolla will share the same powertrain as the new Corolla Hatchback, too. Just as a reminder, that vehicle comes with a 2.0-liter inline-four that produces 168 horsepower and 151 pound-feet of torque. Transmission choices include a six-speed manual and a Continuously Variable Transmission (CVT).

Toyota has made it a mission to offer nearly every new car in its lineup with a healthy list of standard safety features. The current Corolla uses Toyota Safety Sense P (TSS-P), which comes with a pre-collision system with pedestrian detection, lane departure alert, automatic high beams, and dynamic radar cruise control as standard. TSS 2.0 adds a few more features to the list and is standard on cars like the Corolla Hatchback. Extra goodies with TSS 2.0 include road sign assist and lane tracing assist, which helps keep the car centered in its lane. So it's tough to say which one Toyota will end up using for the all-new model.

Sales for the Corolla are down for 2018, but the sedan is still one of the more popular sedans on the market. Last month, Toyota sold 19,130 units, which is down 35.7 percent from last year. Through the first nine months of the year, 217,301 units of the Corolla have been sold. During the same period last year, Toyota sold 249,122 sedans.

The compact segment may not be as popular as it once was now that SUVs and crossovers have taken over, but automakers have made their vehicles even more competitive. Kia recently came out with a new Forte, the Honda Civic is newer, and Hyundai just introduced an updated Veloster. An all-new Corolla for the 2020 model year could help Toyota reclaim some of the sales it's lost.