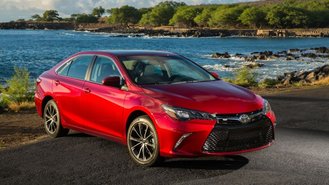 With 2016 in full swing, the yearly update for most valuable brands is on hand. On the automotive side of things, we have most of the typical suspects on the list, though some have grown and shrunk, but there are two that are newcomers to this Top 10 list of most valuable automotive brands.
Of course, Toyota retains its firm grip on the No. 1 slot with a value of $29.5 billion—a two percent increase over 2015's numbers. The Japanese giant trumps the No. 2 company, BMW, by a whopping $2.7 billion. Rounding out the top eight in descending order are Mercedes-Benz, Honda, Ford, Nissan, Audi, and Land Rover.
Particularly noteworthy this year are newcomers to this list: Porsche and Tesla made their way to Nos. 9 and 10, respectively, with a value of $4.4 billion each. According to Automotive News, Porsche clawed its way into the Top 10 by going back to its roots of niche vehicles, like the 918 Spyder and the Cayman GT4, while Tesla rode the wave of its new Model X and upcoming $35,000 Model 3.
While Porsche and Tesla can't look toward strong deals for their climb, Toyota owes much of its success to its ability to offer outstanding deals in some of the most important classes of vehicles. For example, qualified buyers can get the 2016 Camry SE on a 36-month lease for as little as $189 per month and $1,999 due at signing. Folks who prefer to buy can get the 2016 Camry with 0 percent APR for up to 72 months.