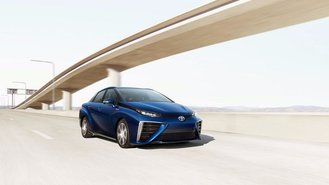 California is the home of flower power – the idea that nature and good vibes can make the world a better place. According to Toyota's limited-release Super Bowl ad, the automaker's Mirai fuel-cell vehicle could actually provide power for the flowers.
The thirty-second spot, titled "Daisy," introduces us to a flower suffering through a life too close to big, dirty cars and trucks. Enter Toyota's Mirai, whose fuel cell uses compressed hydrogen and atmospheric oxygen to produce power, while emitting nothing but water as a byproduct.
For those who live outside of California, the YouTube post may be your only chance to catch this little act of gardening. The Mirai is only available in the Golden State, so instead of running "Daisy" as a national Super Bowl ad, Toyota will instead be targeting audiences in the Los Angeles and San Francisco media markets.