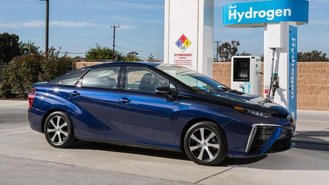 Hydrogen vs. Electrons. The battle for zero-emission supremacy wages on as the new 2016 Toyota Mirai begins to hit American roads this September. And its range? 312 miles. That's a full forty-two more than the reigning mileage range champ, the 2015 Tesla Model S 85D which only returns 270 miles per charge via its twin brushless electric motors and beefy 85 kWh battery pack.
Hydrogen Filling Stations
But is hydrogen really the most practical way to get the extended range Americans yearn for? It depends on a variety of factors, the main one being the access to hydrogen filling stations. In the Los Angeles metro area, only three filling stations are currently open, while forty-six are "planned". The added value at work here is that if you do live in the Los Angeles area, the Mirai will grant you free hydrogen for a full three years. We're kinda curious to see what happens after that, however.
Mileage Range to Ease Range Anxiety »
Tesla Supercharger Stations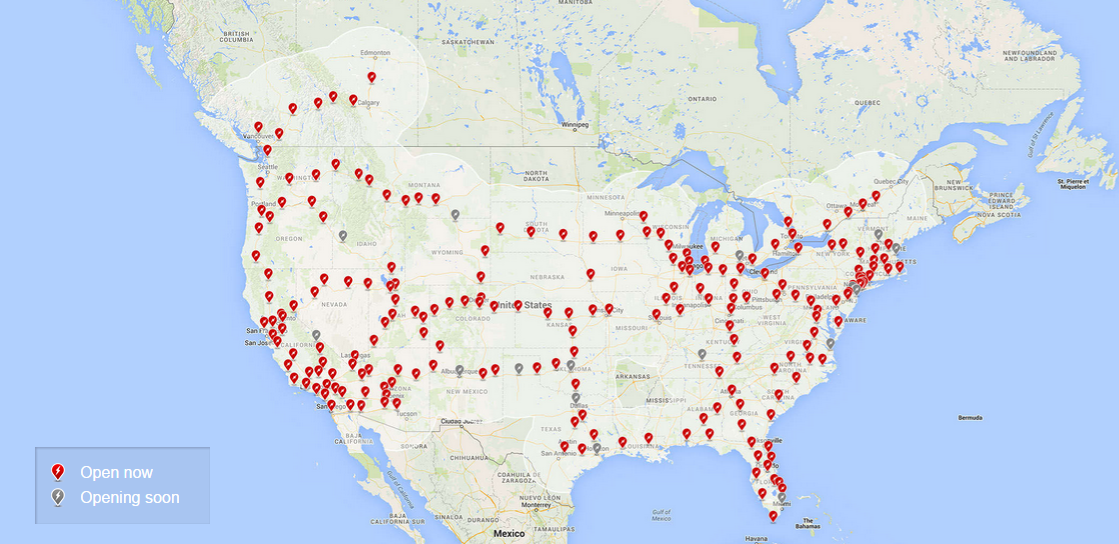 Tesla seems to have its ducks in more of a more straight row since its highly-acclaimed Supercharger infrastructure has already been built and expanded upon. Take a look for yourself--they're plastered all over the map above. If you run out of juice, it will be easier to get a quick recharge and be on your way, while filling up on hydrogen may require some more careful planning.
The same can be said about traditional battery-powered EVs like the 2015 Nissan LEAF, who's driving range comes in at a scant 84 miles in comparison.
It's worth noting that Toyota, the world's largest automaker, does not believe that these battery-powered EVs are the future. Hence the heavy investment in hydrogen.
Safer To Wait
If you're shopping for one of these alternative vehicles, our advice is to wait. You should also take a strong look at extended-range plug-in models like the 2015 Chevy Volt and 2015 Toyota Prius Plug-In. Both models offer outstanding range and outstanding fuel economy. Granted, they are not zero-emission vehicles, but at the end of the day, your dollar will go further with either of these models should you choose to opt for 'em. And you can fill them up on cheap and bountiful 87-octane fuel.
After it's all said and done however, the Mirai might force consumers into re-thinking their approach. It wasn't too long ago when the cynics scoffed at the idea of commuters buying hybrids and utilizing them as honest daily drivers. It's going to take some time, but the Mirai looks extremely promising. Will it make the perfect all-around car? Probably not. But with some more time to refine, it just might.
*Before incentives.
Take a look at our preview for more and let us know what you think in the comments section below.