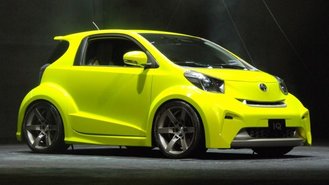 If you want to buy the most fuel-efficient gasoline-powered car available, the 2015 Scion iQ is it. You won't have to use diesel or premium unleaded. Just the cheapest 87-octane fuel available. But not for long. Toyota has announced that the current micro-sized model won't be around for much longer because of stagnant U.S. sales.
But why? The iQ yields impressive fuel economy of 36 mpg in the city and 37 mpg on the highway. And it's probably the easiest vehicle to drive on the market. It's dimensions make it perfect for commuting in crowded metropolises, and it's actually a joy to parallel park.
But the fact of the matter is that consumers don't feel safe in such a small car. Scion even added 11 airbags and beefed up the body to earn the iQ a four-star crash rating. But those efforts were thwarted when people realized that everyone else happened to be buying crossovers and trucks again.
See the Safest Cars of 2015 >>
Moreover, the typical American also tends to marry size with price. Bigger is usually more expensive, and smaller should usually be cheaper. Not the case with the iQ. It's base price is $16,435, and when you compare that to the $16,433 price of the 2015 Toyota Yaris (Auto), it doesn't make mathematical sense to opt for the iQ.
Compare the iQ and Yaris here and you'll see why.
Granted, the Yaris might not be able to fit into the same parking space, but if that's the main selling point for you, time is running out to buy one.
Check Pricing and Deals on the 2015 Scion iQ >>