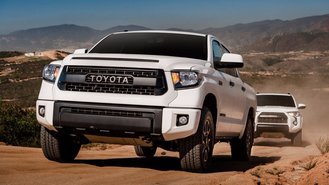 There is no denying that the Toyota Tacoma is still the king of the midsize pickups. This is evidenced by its 126,988 year-to-date (YTD) sales as of August 2016 compared to the second-place Chevrolet Colorado, which comes in at 69,664 units over the same time period. However, Toyota is taking preemptive action to retain its sales title, according to Automotive News.
The Japanese automaker is defending its supremacy with a $150 million expansion of its Tijuana, Mexico, assembly plant. This extra cash will push the factory from a current annual production capacity of just over 100,000 to 160,000 units by 2018. Sure, more supply doesn't always equal more sales, but at the pace the Tacoma sells, the extra inventory will give buyers more options to choose from and less reason to opt for a competitive product.
So, why is Toyota so worried when it has such an incredible lead in the segment? Well, it's mostly because the Colorado is only one half of the General Motors equation; combining Colorado sales with those for its twin, the GMC Canyon, means GM isn't as far behind Toyota as it may seem.
And while Tacoma sales are only up 4 percent for the year, the Colorado has seen 25 percent growth, the Canyon is up 21 percent, and the aging Frontier is up 45 percent. Even more alarming is the fact that the Tacoma's market share has fallen from 51 percent in 2015 to just 43 percent so far in 2016.
One thing to keep in mind is that more inventory and options may not directly translate into more sales. The resurging midsize pickup segment is a far different animal than it was in years past. The recently revived models (Colorado, Canyon, and Ridgeline) offer smoother rides and more upscale features than the Tacoma. Many buyers are flocking to these new models just for those reasons, and the Tacoma would likely not meet their needs.
That said, Toyota is always very calculated in its strategy, so chances are there's a strong business case for boosted production levels delivering results the automaker is expecting.
Because the Tacoma sells so well, Toyota has little reason to offer many great deals on it, and there aren't any cash incentives on the table. There are, however, some very strong lease deals, including a New York-only 36-month lease on the 2016 Tacoma SR5 that runs $279 per month with $2,799 due at signing.