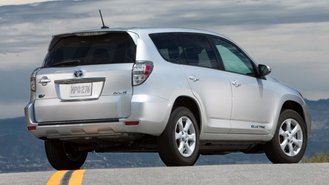 A huge shift is underway at Toyota that is sure to shake up the entire auto industry, as a recent report from Japanese newspaper Nikkei Asian Review says the automaker will pivot toward mass producing electric vehicles.
In this day and age, building electric vehicles is nothing new, but for Toyota, this is massive. Until now, the brand has focused on hybrids and fuel-cell vehicles in its green initiative. Now, with the increasing risk of falling too far behind this growing niche, Toyota is reportedly shifting to full-electric cars.
Previously, Toyota built an all-electric RAV4 EV from 1997 through 2003 and again from 2012 to 2014. The latter model used technology provided by Tesla to deliver a respectable-for-the-time 103 miles of EV range and a 7.2-second sprint to 60 mph. Sadly, Toyota scrapped the model following the 2014 model year.
Toyota's hope is to use the Prius or Corolla platform to create a small EV crossover that will have more than a 300 km (186-mile) range. To hit this range, Toyota needs to put most of its focus on the batteries, and the report claims that Toyota will do some work in-house, but it'll also pull in technology from other companies to help keep production costs low.
Toyota plans to have a model ready in time for the 2020 Olympics in Tokyo, giving it a huge stage in which to show off its new green car. Its focus is certain green-friendly areas in the U.S. (read: California) and in China, where there are generous subsidies for EVs.
For now, Toyota is still focusing on its fuel-cell vehicles and hybrids, like the plug-in Prius Prime that is set to hit showrooms later in 2016. There is no mention of what will come of these hybrid cars once EVs start becoming a big part of Toyota's lineup.
If you're in the market for a green Toyota now, the 2016 Toyota Prius Two can be leased from $189 for 36 months with $1,999 due at signing and ranks as one of the best green car deals this month.