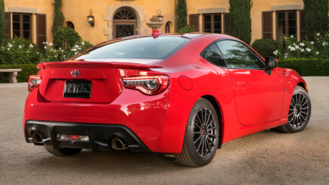 In recent years, more and more automakers have shied away from offering vehicles with manual transmissions – much to the chagrin of enthusiasts. What die-hard manual fans fail to recognize is that selling cars with manual gearboxes is almost impossible nowadays. CarBuzz, which spoke with Toyota spokesperson Nancy Hubbell, learned how low the take rate for vehicles with a manual transmission is.
Toyota is one of the few brands left that offers a manual transmission throughout its lineup. The Corolla (sedan and hatchback), Yaris sedan, 86, and Tacoma are all available with a manual gearbox. Unfortunately, for the Corolla, the take rate is less than 1%. "It's not very high for the Corolla as a whole, but it is better if you just count the hatchback," said Hubbell.
Take the Corolla sedan out of the picture, and the take rate for the Corolla hatchback is a much better 15%. When it comes to the Tacoma and the Yaris, things aren't that much better, as the take rate for vehicles with a manual transmission is around 5%.
One would expect the 86 coupe to be a different story. The sports car is, well, a sports car, and one would assume that consumers looking to get into a sports car would want a vehicle that offers the ability to feel more connected with the coupe. That, though, isn't the case, as the outlet claims that the take rate for the 86 is roughly 33%.
None of this information is exactly surprising, except for the 86's figure. We definitely thought more consumers would purchase an 86 with a manual transmission than an automatic. If Toyota's take rates are so low, we can only imagine what numbers look like for other automakers. Obviously, this is why a lot of automakers have decided to ditch manual transmissions all together in the U.S.
Those that have decided to stick to the old ways have made a fundamental change. Instead of offering a manual gearbox in a bare-bones configuration, some brands have started to offer manuals in more expensive trims to better meet demands.
The all-new Mazda3 hatchback, for instance, is only available with a manual transmission on the range-topping Premium Package. That's not how Toyota does things for the Corolla sedan, which is only available with a manual transmission with the mid-level SE 6MT trim.