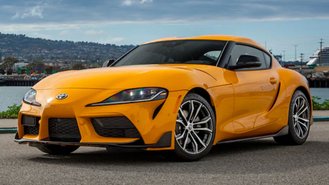 The new Toyota GR Supra is a knockout. Blisteringly fast, shockingly styled, and reasonably priced, Toyota made consumers wait years for the new Supra, but it was well worth it. If there's one thing consumers were really looking for when the Supra came out, it was a manual transmission. For the sports car's second model year, the Supra is still only available with an eight-speed automatic transmission. That, reportedly, may change soon, as reports indicate that the Supra could get a manual transmission.
According to a rumor from Japanese Mag X that CarBuzz first found, Toyota will introduce a Supra with a manual transmission to ensure consumers stay interested in the sports car. The addition of the manual transmission will follow what Toyota did for the 2021 model year when the automaker increased the output of the six-cylinder engine and introduced a new model with a four-cylinder powertrain. Sometime in the future, as least according to the publication, Toyota will introduce a limited-edition GRMN Supra, as well as a model with a manual gearbox.
Beyond that, there aren't any details or real information to go off of. Since Toyota already made quite a few changes for the 2021 model year, we don't expect the manual Supra to arrive, if it ever does, before the 2022 model year.
We're not surprised to hear a rumor about the possibility of a Supra with a manual transmission. Rumors of Toyota offering a manual transmission in the sports car have been circulating since the nameplate made a comeback last year. Apparently, Toyota even told Car & Driver that it has Supras with manual transmissions that it's been testing. So, they exist, and they're out there somewhere. The real question is whether Toyota and BMW will actually sell them to consumers.
Neither the Supra nor the BMW Z4 that it shares a lot of its components with are available with a manual transmission in the U.S. In Europe, though, it's a different story for the Z4, which is available with a six-speed manual transmission for a few models with a four-cylinder engine. Another possibility, which is founded on another rumor from Japan's Best Car Web, is that the Supra will gain the powertrain from the upcoming BMW M3. The engine would be rated at roughly 500 horsepower and would be paired to a manual gearbox. Whether that's the manual gearbox option that Mag X is referring to or if that's the limited-edition GRMN model is anyone's best guess.
Manual transmissions are quickly disappearing from the market. The last segment where they continue to be offered are when it comes to sports cars. The Porsche 718 Cayman, Porsche 911, BMW M2 Competition, and Ford Mustang Shelby GT350 are available with manual transmissions. The all-new Chevrolet C8 Corvette isn't available with a manual gearbox and neither are the other really high-performance sports cars.
The decision to offer a manual transmission in the Supra won't make the vehicle more competitive, but it would make it part of a small group of cars that continue to allow drivers to shift gears themselves. Based on take rates for the more affordable 86, we don't think a manual transmission would necessarily boost Supra sales significantly.
With so many rumors surrounding the Supra swirling around, it's difficult to tell which ones have merit. While we'll have to wait to see which rumors actually come to fruition, it's clear that Toyota has a lot of things in store for the Supra and the next few years should be exciting ones for the sports car.