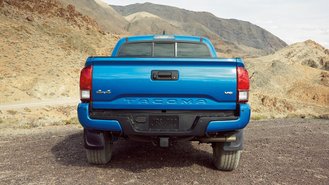 Toyota is recalling 228,000 2016 and 2017 model year Tacoma trucks because the rear differentials may leak oil. The leaks could create noise and reduce acceleration, and in extreme cases, the diff could seize, increasing the risk of a crash.
The fix requires dealers to check the differential for leaks and re-tighten the fasteners on the diff. If there is a leak, techs will replace the differential gasket and install new fasteners. Naturally, if there's differential damage, the unit will be replaced outright. All repairs are free of charge.
Toyota hasn't specified whether there are any crashes, injuries, or fatalities due to the issue. It also hasn't broken down production dates for the recalled trucks. Notifications will rollout starting in June.