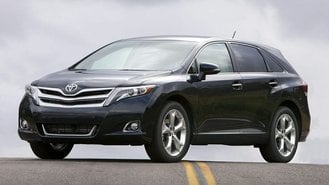 Crossover shoppers will have one fewer choice from Toyota very soon. The automaker has decided to end production of the Venza this summer.
Not surprising
News of the Venza's demise comes during an unprecedented boom for crossover vehicles. The struggling model saw a lift in sales with a mild refresh in 2013, but sales have been flat for months.
According to Toyota, production will cease at Toyota Motor Manufacturing in Kentucky by June 2015 for the US market and by September 2017 for export markets. No jobs will reportedly be lost at the factory as a result of the decision.
A crowded segment
According to CarsDirect analysts, the Venza has continued to be a niche seller. The model was meant to appeal to shoppers wanting the versatility of a minivan with a somewhat more luxurious interior and car-like handling.
However, shoppers' apparently insatiable appetite for other crossovers has made that segment highly competitive. Toyota has resorted to substantial rebates as high as $2,000 to help sell the Venza in recent months.
To put the Venza's niche status into context, the automaker reportedly sold 2,105 Venzas in January 2015. In contrast, 19,824 RAV4 SUVs and 11,060 Highlander SUVs were sold in the same period. Toyota has committed to increasing production for the RAV4 and Highlander this year.
Exclusive buying insights for the Toyota Venza>>
Rebates flat, but that may change
Rebates on the Venza have been flat for months after the outgoing 2014 models sold out and cash was increased on the 2015 model. However, shoppers may want to keep an eye out for changes over the next 60-90 days.
To get the latest info, see our CarsDirect Pricing Insider page and sign up for email alerts to get the latest deal news each month.