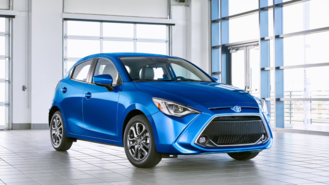 For quite some time, the Yaris nameplate denoted two very separate vehicles. The Toyota Yaris Liftback, which was discontinued at the beginning of the year, was comprehensively a Toyota. The Yaris sedan, on the flipside, is actually a Mazda2. For the 2020 model year, Toyota has introduced a new version of the Yaris Hatchback – one that, just like the sedan body style, will be a Mazda2 with a different badge.

Now that the Yaris Hatchback and the Yaris sedan fit underneath the same awning, the vehicles share the same exterior design, 106-horsepower 1.5-liter inline-four, six-speed automatic transmission, and interior blueprint. Compared to the Yaris Liftback, the 2020 Yaris Hatchback is all new. And while we were expecting some news for the Yaris lineup, seeing Toyota turn once again to Mazda for a hatchback version of the sprightly and affordable Mazda2 for the U.S. market is a good sight.

Two trims will be offered for the Yaris Hatchback: LE and XLE. Standard equipment for the LE includes a 7-inch touchscreen, Apple CarPlay, Android Auto, keyless entry, 16-inch wheels, fog lights, and a low-speed pre-collision system.

There are a few things Toyota hasn't announced yet. The first is pricing. The Yaris sedan starts at $16,380 and we expect the Yaris Hatchback to be slightly more expensive. The sedan body style is offered with a manual transmission, but Toyota hasn't confirmed or denied whether the manual gearbox will be available for the hatchback.


Official fuel economy numbers are still up in the air, too. Toyota claims an estimated highway rating of 40 mpg, though. That would put it on par with the Yaris sedan, which has an EPA rating of 32 mpg city and 40 mpg highway.

With similar fuel economy and pricing, the new Yaris Hatchback is aimed directly at urbanites that want a small car that can still hold a decent amount of cargo. The curvy backside results in a cargo space of 15.9 cubic feet, which is 2.4 cubic feet more than the Yaris sedan. Over competitors like the Honda Fit, Mini Cooper, Chevrolet Sonic, and Nissan Versa Note, the Yaris Hatchback's athletic handling, upscale cabin, and affordable pricing should make it stand out.