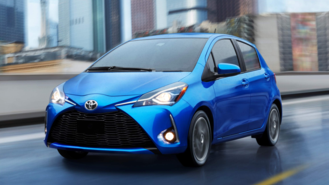 In a move that may not come as a complete shock, Toyota has discontinued the Yaris Liftback here in the U.S. Once the brand's most affordable car, the Yaris name was recently re-purposed for the Yaris Sedan, the latest incarnation of the Scion iA. The change was confirmed today by Toyota spokesperson Nancy Hubbell.
Until recently, the Yaris name actually encompassed two completely different cars. The first was a hatchback largely unchanged since 2007 but with some value-oriented safety features like a pre-collision system and a relatively low price tag of $16,565 with destination in base form.
On the other hand, the sedan is a remnant of the Scion brand originally introduced for 2016 that subsequently became the Yaris iA for 2017. The car was co-developed with Mazda and offers an impressive array of standard equipment. Toyota started calling it the Yaris Sedan for 2019 and cut prices by $500 to $16,380.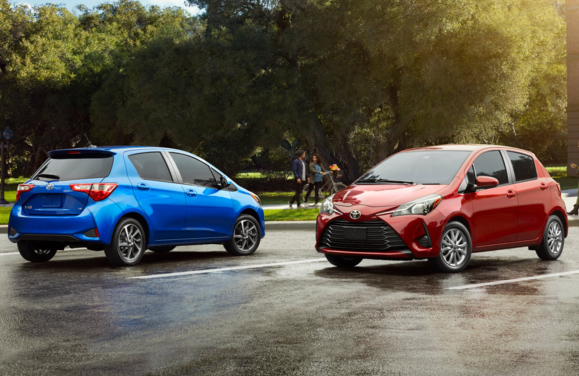 The demise of the hatchback version shouldn't be all that surprising given the lack of demand from consumers for subcompact cars. There's also the fact that the sedan is arguably a much better car from a driving standpoint, offers an impressive set of features and has a lower price tag to boot.
Interestingly, we've seen evidence that the decision may not have been as easy as one would think. Fleet documents have listed 2019 Yaris Liftback production as "TBA" for months well after the brand issued ordering guides. It's not every day that an automaker issues order guides for a car it doesn't end up building.
After confirming Toyota's plan for the Yaris, Ms. Hubbell noted "Additionally, we're working on something new for MY2020 and look forward to seeing you at the New York Auto Show for more details." As for what that is, that's anybody's guess, but we doubt it's the 2020 Corolla or Corolla Hybrid shown last year in Los Angeles.
So what does this mean for frugal-minded buyers looking for affordability? At this point, our analysis shows that inventory for the 2018 Yaris has largely sold out. This was probably helped by the fact that dealers didn't keep a ton of cars in stock in the first place due to a lack of buyer demand.
For an alternative, shoppers may want to consider the Yaris Sedan, which comes with a similar base price but now offers an expanded range of options for 2019. For something different, the 2019 Nissan Versa Note S with CVT starts at $16,545 but lacks a collision mitigation system like the Yaris as well as other Nissans.
Editor's Update 5:10pm: A Toyota spokesperson has confirmed that the automaker has an announcement planned for the New York Auto Show about the 2020 Yaris. We hope to learn in April whether or not the brand intends to resurrect the hatchback in some form or to offer something completely different. As it stands, there will be no 2019 Yaris Liftback.