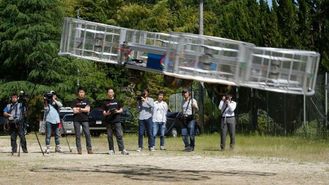 Toyota is working on a flying car as a showcase of its technology. To call it a fledgling exercise at this point, however, is fairly accurate.
This test, as shown by The Associated Press in a video, reveals the project looks very much like a science experiment, but also has some quirks. In the minute-long video, the vehicle struggles to get off the ground at first, before it rises and then almost immediately crashes back down. Engineers' frustration in the background is apparent, too.
Toyota says it plans to get the flying car project off the ground in time for the 2020 Summer Olympics in Tokyo, to deliver the torch at the games' opening. It's part of a larger effort to explore different types of transportation solutions.
But for now, the flying car is still clearly in early stages. Toyota, however, has a few more years to get it to fly higher and, one day, with a human on board.
(AP)