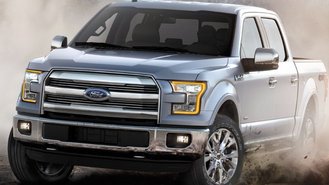 How much does your car weigh? The question is not quite as intrusive and off-limits as it might be if you were going muster up the bravery and/or bravado to pose the question to a member of the opposite gender. But in most cases, consumers just don't know. A 2015 Audi A4 weighs almost as much as the new 2015 Ford F-150 (3,649 lbs vs. 4,050 lbs).
The Rise in Weight
Over the years, manufacturers have been forced to quietly hide the number because vehicle curb weights have steadily continued to rise. But why are vehicles so heavy in the first place? The main reason is that today's vehicles are getting mandatory safety features. They also have to pass more stringent crash tests. Moreover, shoppers want more space, so the vehicles have to get bigger. And now, they also want better fuel efficiency. Win.
20 Years of F-150
| | | | | |
| --- | --- | --- | --- | --- |
| | Curb Weight | Fuel Economy | Base MSRP | Payload Capacity |
| 1995 Ford F-150 | 4,037 LBS | 12/17 MPG | $13,287 | 1,410 LBS |
| 2000 Ford F-150 | 4,041 LBS | 14/19 MPG | $16,455 | 1,675 LBS |
| 2005 Ford F-150 | 4,878 LBS | 15/19 MPG | $20,475 | 1,660 LBS |
| 2010 Ford F-150 | 4,823 LBS | 15/19 MPG | $22,360 | 1,700 LBS |
| 2015 Ford F-150 | 4,050 LBS | 19/26 MPG | $26,615 | 1,910 LBS |
Lighter Than Ever: F-150
Take the newly redesigned 2015 Ford F-150. It weighs 714 pounds less than last year's model (which is still on sale today).
The bulk of the weight loss comes courtesy of aluminum. Alcoa, one of the leaders in aluminum production, notes that both regulatory and consumer demands have been responsible for the recent trend in lighter, more fuel-efficient vehicles. "The easiest thing to do is get the weight of the car down without compromising the safety, and that's where aluminum comes into the game," says Alcoa's CEO, Klaus Kleinfeld.
That's only part of the benefit of lighter weight. The new 2015 F-150 is also more fuel-efficient and has a higher payload capacity.The icing on the cake is that the body is stiffer, leading to both better handling and improved ride quality.
Case for Caddy
Cadillac's newest flagship, the upcoming 2016 Cadillac CT6, will utilize more aluminum to help reduce weight by 198 pounds versus using steel. They announced that 64% of the CT6's body will be made from aluminum. The reduction in weight will not only handle better, but it will also improve fuel efficiency while continuing to pass safety standards.
Sneak Preview: 2016 Mazda Miata »
The Enthusiast's Choice
Auto enthusiasts everywhere are probably high-fiving and lighting up their tires in celebration of today's news that the highly-anticipated 2016 Mazda Miata will weigh a solid 148 pounds less than the outgoing 2015 model and a scant fifteen more pounds than the 2015 Alfa-Romeo 4C. Remember, this is all accomplished without sacrificing the Miata's handling hallmark and bang-for-the-buck price (it's also $25k less than the Alfa!).
Conclusion
At the end of the day, the winner is you, the consumer. Although today's cars and trucks are getting lighter, they're more affordable and safer. The future looks bright--and light.