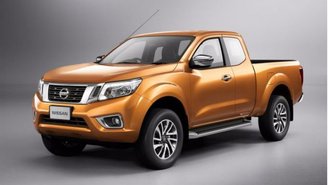 When Nissan unveiled the Xterra back in 1999, the goal was to make a SUV that was as happy off-roading as it was driving on paved surfaces. A competitor to the Jeep Wrangler, Toyota 4Runner, and Jeep Cherokee, the Xterra took a lot of its underpinnings from the Nissan Frontier pickup truck, giving the SUV its heavy-duty characteristics.
Nissan discontinued the Xterra after the 2015 model year, leaving a gaping hole in their lineup for a rugged SUV. Well, according to Motor Authority, Nissan's looking to fill that void with another off-road-friendly mid-size SUV.
The outlet got hold of a photo of Nissan testing a mid-size SUV based off the NP 300 Navara, their globally-sold pickup truck, leading them to believe that a rugged SUV is on the way. Motor Authority claims the body-on-frame SUV will be called the Paladin, at least when it goes on sale in China. The SUV could make its debut as early as this month at the 2017 Guangzhou Auto Show or in April at the 2018 Beijing Auto Show.
According to Motor Authority, the new SUV will seat up to seven passengers and, if sold in the US, could revive the Xterra nameplate. Interestingly enough, the outlet also believes a new Frontier is in store for the US in the near future. With a new Frontier on the way, it'd make sense for Nissan to utilize the chassis to develop a new mid-size SUV.
With the unveiling of the redesigned 2018 Jeep Wrangler and the upcoming return of the Ford Bronco to the rugged SUV segment, a new truck-based Xterra doesn't sound like a bad idea.