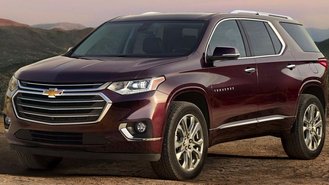 The sporty Chevrolet Traverse RS is a new addition to the SUV lineup and promises to be an interesting drive thanks to a turbocharged engine. Chevrolet has kept the Traverse RS' particulars to itself, but we managed to find pricing and fuel economy figures for the trim, as well.
According to the latest order guide, the new Traverse RS will start at $42,995, including the $945 destination fee. With that price tag the RS trim will sit in between the LT Leather and Premier trims. Special touches include black bowties, 20-inch black wheels, black roof rails, gloss black window trim, as well as a unique black ice grille and foglamp bezel.
In addition to the unique touches, the RS is the only member of the Traverse family to get a 2.0-liter turbocharged four-cylinder motor that makes 257 horsepower and 295 pound-feet of torque. Oddly enough, the SUV will only be available as a front-wheel-drive model.
While the RS trim is being marketed as the sporty variant of the Traverse, it makes less power than the regular Traverse and gets worse fuel economy on the highway too. The 3.6-liter V6 that's found in the rest of the Traverse lineup generates 310 hp and 266 lb-ft of torque.
The V6 engine can get 18 miles per gallon in the city and 27 mpg on the highway – for front-wheel-drive models. The turbocharged-four engine can get what General Motors estimates to be 20 mpg in the city and 25 mpg on the highway. Even all-wheel-drive models with the V6 engine aren't that far off with a rating of 17 mpg in the city and 25 mpg on the highway.
The Traverse RS sits in a strange part of the midsize SUV scene. Its most natural competitors are the Ford Explorer Sport and Mazda CX-9. At $46,300, the 365-hp Explorer Sport is aging and more expensive, but it's also more powerful and comes standard with front-wheel drive.
The CX-9, meanwhile, is also powered by a turbocharged four-cylinder and has what are inarguably the most impressive driving dynamics in this class. It's also more affordable, offering the turbocharged engine and sporty driving character on even the most basic trim.
But beyond those notable challengers, the Traverse RS could successfully lure shoppers away from the Volkswagen Atlas, Honda Pilot, and Toyota Highlander, all of which lack a dedicated sporty trim.