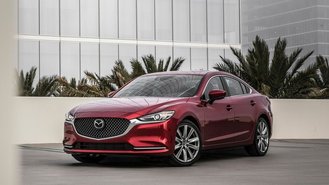 The Mazda6 was already a leader in the midsize segment, despite only offering a single four-cylinder, naturally aspirated engine. But the updated 2018 model adds to the goodness, bringing forced induction to the midsize sedan, some more premium materials, as well as additional features. But the juiciest detail focuses on how much the turbocharged engine costs in the Mazda6.

The Mazda6 Grand Touring trim is the most affordable way to get the midsize sedan with the brand's new turbocharged motor — a 2.5-liter turbocharged inline-four that makes 250 horsepower (on premium fuel – fill it with 87 octane and there's only 227 ponies) and 310 pound-feet of torque. The Grand Touring trim costs $30,090 (all prices include destination). The engine is paired exclusively to a six-speed automatic gearbox.

While the Mazda6 is late to the turbocharged party, the automaker's newly force-induced sedan acquits itself well, offering more torque than any of its competitors and in most cases, more power, too.
The perennial leader in this segment, the Honda Accord, can be had with a turbocharged 2.0-liter four-cylinder – also new for this year – that generates 252 hp and 273 lb-ft of torque for $31,200. A two-horsepower advantage and two superior transmissions – a six-speed manual or a 10-speed automatic – work in the Accord's favor, but the Honda is down 37 lb-ft of torque. It's also worth noting that the Accord's price is for the lightly equipped Sport variant – grabbing a 2.0-liter Accord that can match the Mazda6 GT in terms of content means moving up to the $32,860 EX-L trim, or even the $36,690 Touring.
For the Ford Fusion, the most comparable engine to the new turbocharged Mazda6 is the 2.0-liter EcoBoost inline-four that makes 245 hp and 275 lb-ft. Going with that engine raises the price of Ford's offering to $27,255, which is $2,835 less than the Mazda6, although the extra power and torque softens the blow.

When it comes to Hyundai, the Sonata Sport 2.0T features a 2.0-liter turbocharged inline-four that's good for 245 hp and 260 lb-ft. While down five hp on the Mazda6's engine, the Hyundai is more affordable, starting at $28,485 for a Sport 2.0T, or $1,605 less than the Mazda6.
All signs point to Mazda having a hit on its hands with the new 2.5-liter, turbocharged Mazda6. The fuel economy numbers look comparable, and the performance and pricing seems downright reasonable. Here's hoping the Mazda6 is as good on the road as it is on paper.