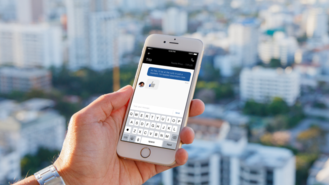 Ride-sharing platform Uber has finally introduced an in-app messaging feature to improve the communication between its drivers and passengers. That means an end to random phone calls flying between drivers and passengers.
Accessing the in-app chat is fairly simple. When you log into your Uber feed after booking a ride, select the "contact" option and then click on "chat". A window will open up that will let riders send a message to the driver. To ensure that the drivers aren't distracted while driving, the app will read the message aloud – drivers can quickly respond via the "thumbs up" emoticon generated by a tap of the screen. Both, the driver and the rider, will receive notifications to let them know whether their counterpart has received the communication.
The in-app messaging feature will roll out globally on the Uber app in the coming weeks. This function is an important update not just because of the added convenience but also because it will enhance the privacy of the Uber users. Previously, there have been reports of people harassing individuals that they got to know through Uber, but with this advance, driver and passenger won't need to know each other's phone numbers to communicate. As Uber needs every win it can get nowadays, this represents a big move for the embattled ride-sharing app.