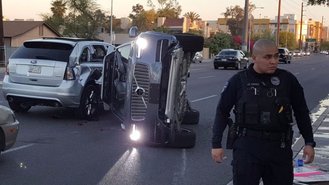 An Arizona crash Friday between an SUV and one of Uber's self-driving vehicles prompted the embattled company to suspend its pilot program.
The crash, according to Motor Authority, happened in Tempe, Arizona with video posted to Twitter showing Uber's prototype on its side following the crash. Two Uber employees, but no passengers, were in the vehicle. Tempe Police ruled the human driver of the vehicle at fault when it failed to yield for Uber's Volvo XC90. None of the occupants sustained serious injuries.
In a statement Saturday to The New York Times and other outlets, an Uber spokesperson said the company would stop the self-driving program in Arizona until the investigation into the crash was completed. Uber's self-driving cars were stopped in San Francisco and Pittsburgh on Saturday, but were later said to resume Monday.
Uber first launched its autonomous vehicle program last fall in Pittsburgh, but has faced a bumpy rollout. The program was introduced in December in San Francisco, also to offer rides to Uber customers and serve as a test bed for the technology. But within the day of the launch, one vehicle was caught running a red light in self-driving mode even as an engineer sat behind the wheel. California officials moved swiftly to get Uber to halt the program there until proper permits were applied for.
The cars in the original San Francisco pilot program were shipped to Tempe. Uber has since been allowed to use two self-driving cars to map routes in San Francisco.
The company's leadership has also been in turmoil in recent weeks with the resignation of its president, its CEO caught on video berating an Uber driver, and allegations of workplace misconduct.