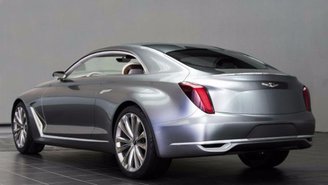 Hyundai's premium division, Genesis, is still committed to producing a full range of vehicles that will be capped by a grand luxury coupe. It just probably won't include a V8 engine in that coupe.
A production version of the 2015 Genesis Vision G concept is due for sale by the beginning of the next decade and is likely to be powered by a smaller gasoline engine and assisted by electric motors, according to the brand's boss Luc Donckerwolke and reported in Motor Authority. He cites current market and emissions conditions that put V8s at a considerable disadvantage and pave the way for electrification to add performance at the higher end of the market.
The Genesis G80 and G90 offer a V8 engine, but it could reasonably be supplanted by the turbocharged V6 engine that actually produces more torque. Genesis also used the New York Auto Show last week to show the GV80 Concept that previews its upcoming SUV offering, but also its interest in exploring hydrogen fuel cell technology.
Genesis may be looking to electrification to not only comply with global regulations, but also set itself apart in a crowded luxury market. And that could mean V8s get left out.
Learn about the current Genesis models on sale now »