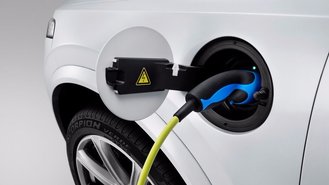 Volvo is, in fact, making its first all electric car for retail sale in 2019. And it will come from China, Automotive News Europe reports.
The Chinese-owned Swedish brand announced Wednesday at the Shanghai Auto Show it will put on sale its first electric car in 2019 but produce it at one of its China plants for global consumption. The as-yet unnamed vehicle will be based on the upcoming XC40 compact crossover and likely be sized to compete with the BMW X1 and future Jaguar I-Pace electric crossover.
Volvo's leadership says the decision to build the car in China only comes from the People's Republic's desire to reduce emissions and improve air quality in its major cities, as well as it being the largest EV market in the world.
"Volvo Cars fully supports the Chinese government's call for cleaner air as outlined in the latest five-year plan. It is fully in-line with our own core values of environmental care, quality, and safety," Hakan Samuelsson, chief executive of Volvo Cars, said in a press release. "We believe that electrification is the answer to sustainable mobility."
It will be the third Volvo to be exported from China. The company already builds the S60 Inscription in China for sale in the US. Later this year, it will move all production of the S90 large sedan from Sweden to the same plant in China that builds the range-topping S60.
Volvo wants to sell 1 million electrified cars by 2025 – next year, the S90 and XC60 plug-in hybrids will join the XC90 hybrid already on sale.