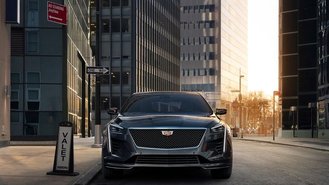 Cadillac is trying to create more separation from itself and General Motors in an attempt to become a true competitor to German rivals. To that end, the brand recently announced that its CT6 flagship sedan would get a 550-hp twin-turbo V8, marking the first time the vehicle is available as a V-Sport model.

The CT6 V-Sport model joins the likes of the CTS and XTS V-Sports as a vehicle that has a potent punch, but isn't as heavy-hitting as the full-blown V offerings. Still, the all-new twin-turbo V8 motor sounds like a screamer.

It produces 550 hp and 627 lb-ft of torque. The formidable engine is paired to a 10-speed automatic gearbox with a 7.39 gear ratio that sends power to all four wheels as standard.

As one would expect, the CT6 V-Sport gets a host of other components that go hand-in-hand with the V8's performance-forward ideology. The sedan sports 20-inch wheels with summer-only rubber that, according to Cadillac, were developed just for the flagship model. The sedan has also been fitted with a limited-slip differential at the back, a retuned exhaust system, and massive 19-inch Brembo brakes.

You can't forget about Magnetic Ride Control, either, which has stiffer suspension geometry than the regular CT6 that will aid the sedan in being more of an athlete. There are some aerodynamic pieces on the vehicle, as well, but it's still a Cadillac, so it's not like the brand went crazy with the design. There's a dark mesh grille, LED headlights, lower-body aero components and Gloss Black exterior trim to help pedestrians know that the vehicle is hiding some extra oomph.


A lot of the regular CT6's tech features will carry over to the V-Sport model, including an available 360-degree camera, night vision, available automatic parking assist, and a full gamut of active safety tech. Super Cruise, which is Cadillac's semi-autonomous system, isn't available on the V-Sport, which makes sense as this car is all about driving.

More details on the refreshed 2019 CT6 and new CT6 V-Sport models should become available at the New York Auto Show, which begins March 28.