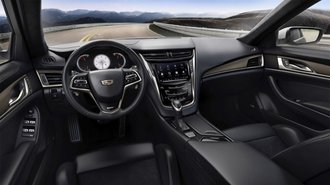 Cadillac has released a flood of new cars and SUVs in recent years, wanting to be talked about in the same sentence as Audi, BMW, and Mercedes-Benz. But a sore spot for the brand's cars has been a big one: the controls.
The Cadillac User Experience (CUE for short) has been the subject of critical ire and dismal quality reports since it was introduced in 2012. Now Cadillac has updated the system with a number of new features it says will better adapt to drivers and make it easier to perform basic vehicle functions.
CUE houses controls for the audio system, navigation, climate, and phone. The new system offers a Summary View home screen to view all of those functions at a glance, rather than having to flip through various menus and take your hands off the wheel. Expanded driver preferences allow more customization to the display to better show more commonly used functions.
The new navigation system is an app-based system that customers can subscribe to and have tied in with the OnStar 4G LTE wifi. Cadillac says it learns commonly traveled routes and offers changes to the route based on traffic conditions.
The 2017 Cadillac CTS will be the first to get the new CUE system beginning in spring, while the ATS and XTS sedans get it later this year when the 2018 models go on sale.