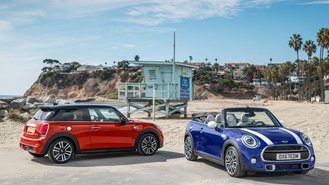 The current Mini Cooper hardtop can trace its roots back to 2006, making it an elderly vehicle in the automotive world. But there's a refresh on the horizon for the classic three-door hardtop and convertible. Mini released the first images of the updated pair on January 9. The official debut is slated for early next week.
But while this is classified as an update, it's only in the most minor sense. Mini updated the headlights and taillights, with the most notable addition being a new Union Jack motif for the LED rear lights. The headlights feature more cohesive LED running light option than today's car. There are also small tweaks in the front bumper. But while the exterior changes are minor, Mini is making the Hardtop and Convertible even more customizable, which is saying something. Minis are already notorious for the sheer breadth of available options. The cabin will add a new 8.8-inch touchscreen infotainment system with Apple CarPlay.
We expect the 2019 Mini Hardtop and Convertible to soldier on with last year's powertrains, which means a three-cylinder turbo in the Cooper and a 2.0-liter, turbocharged four-cylinder in the Cooper S and John Cooper Works. Six-speed manuals will remain the enthusiast choice, although Mini may take the opportunity to replace the current six-speed automatics with a thriftier eight-speed auto available in other Mini models.
We'll have more on the 2019 Mini Hardtop and Convertible from next week's Detroit Auto Show.